As of March 1, more than 500 Beacon Communities residents have received the COVID-19 vaccine at on-site vaccination clinics, with clinic exploration or planning underway at almost all of Beacon's affordable properties for seniors and disabled residents. In cases where an on-site clinic is not possible, considerable efforts have been made to connect residents with off-site access to the vaccine.
"The goal is to hold on-site vaccine clinics at as many of our affordable properties as possible," said Thomas Stokes, Beacon Communities Vice President of Community Engagement, who has been leading the vaccine initiative. "On-site clinics allow us to get more residents vaccinated safely and quickly and can help to lower transmission of the virus. With more residents and team members vaccinated, fewer people will get sick, and there will be fewer disruptions to building and staff operations."
The first phase of the vaccine clinics focused on residents 75 years and older, but as states begin to lower age requirements, the pool of vaccination candidates is expanding. This is good news, of course, but changes in requirements can complicate planning. For example, on March 1st, Connecticut began vaccinating citizens who are 55 years and older, while in Massachusetts, only residents aged 65 and older are eligible. Consequently, vaccination clinics in these states will need to recalibrate the number of shots needed as well as staff and operations of clinics. Such differences in state protocols and available resources differ greatly across the 11 states Beacon operates in.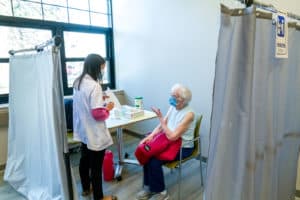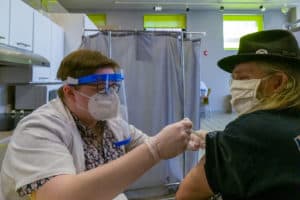 Precise protocols for clinic design
"A staggering amount of planning goes into an on-site vaccination clinic," said Lee Ann Frigulietti, Community Engagement's Assistant Vice President. "The logistics surrounding a vaccine clinic are incredibly complex, and there is a lot of pressure not to waste excess vaccines…we have a responsibility to get this right."
To that end, Beacon has developed a highly detailed protocol to guide staff and volunteers in planning, implementing, and operating a vaccination clinic. First, property resident service coordinators determine staff requirements for registration, crowd flow, and observation monitoring after vaccination. Also, top of mind are identifying and ordering the right supplies, such as PPE for staff and residents, sanitation supplies, and signage. Next, the Beacon staff obtains personal and healthcare provider information from vaccine candidates. Appointments are then scheduled with residents and follow-up reminders are sent.
On the day of the vaccinations, the team sets up the on-property clinic following protocols for spacing and social distancing and creates an area for post-vaccine observation as well as a dedicated exit for vaccine recipients. Throughout the day, on-site runners are on hand to knock on doors and see that each person gets to their appointment as needed, while helping to ensure proper social distancing and crowd flow to keep the process moving.
While Pharmacy staff perform many of the vaccinations, the overall effort relies on collaboration with approximately 50 other partners that include local healthcare facilities, medical schools, local pharmacies, colleges, and state agencies.
Not everyone wants a vaccine
Despite careful planning, one obstacle remains: To date, approximately 50% of eligible residents have opted out of the vaccination process. "You can't assume that everyone will want to take the vaccine due to factors like medical history, cultural fears, and misinformation," Stokes said. "We are providing information from trusted sources like the Centers for Disease Control and Prevention to help resolve vaccine myths and boost the participation rate." In some cases, resident services coordinators have conducted video interviews with a vaccinated resident to better inform concerned groups within the larger community.
On-site vaccination remains a complex—and arduous—vortex of many moving parts. "Community engagement team members are working tirelessly to make sure residents get access to these vaccines…ultimately, we are trying to save lives amidst a complex logistical environment," said Stokes.
Back to All News