PRESS RELEASE
FOR IMMEDIATE RELEASE
September 28, 2022
Contact: Jane McGrath
jane@libertysquaregroup.com
Hearst Media Services Names Beacon Communities a Winner of the Fairfield, New Haven, and Litchfield County Top Workplaces Award
Beacon Recognized Among Best Employers in Connecticut
Boston, Massachusetts, September 28, 2022 – Beacon Communities has been awarded a Top Workplaces 2022 honor by Hearst Connecticut Top Workplaces. The list is based solely on employee feedback gathered through a third-party survey administered by employee engagement technology partner Energage LLC. The anonymous survey uniquely measures 15 culture drivers that are critical to the success of any organization: including alignment, execution, and connection, just to name a few.
"Earning a Top Workplaces award is a badge of honor for companies, especially because it comes authentically from their employees," said Eric Rubino, Energage CEO. "That's something to be proud of. In today's market, leaders must ensure they're allowing employees to have a voice and be heard. That's paramount. Top Workplaces do this, and it pays dividends."
"At Beacon, we believe in Living Well by Design for our residents and Working Well by Design for our teams," said Dara Kovel, CEO of Beacon Communities. "This mindset permeates every aspect of our work, from our physical workspaces to our employee engagement and teambuilding. I am incredibly excited to see Beacon recognized as a Top Workplace in my home state of Connecticut."
Beacon Communities has operated in Connecticut since the mid-nineties and currently oversees 13 professionally managed communities across the state. This equates to over 2,000 apartment homes, with the vast majority serving moderate to low-income households. 72 team members support these properties and work closely with their residents to deliver an exceptional apartment living experience.
"Our Beacon team in Connecticut exemplifies teamwork, dedication, and our engaging culture," said Kristie Tafel, Senior Vice President of Property Management at Beacon Communities. "These hard working individuals accomplish important work while genuinely caring for one another and for our residents. Our team members believe in the mission of our organization which has a direct impact on their engagement. It is very exciting to see our Connecticut team's high value for engagement be recognized through this award!"
About Beacon Communities LLC 
Beacon Communities LLC is a privately owned real estate firm that develops, acquires, invests in, and manages a wide range of multi-family housing. Their portfolio includes affordable housing, market rate housing and mixed income-housing. Their developments range from new construction, to historic adaptive reuse, to the renovation of existing housing. They take on challenging developments and make them succeed. Their driving passion is to create well-designed, healthy homes that improve the quality of life of their residents and enhance the neighborhoods in which they are located. For more information about Beacon Communities LLC please visit www.beaconcommunitiesllc.com.
About Energage
Making the world a better place to work together.TM
Energage is a purpose-driven company that helps organizations turn employee feedback into useful business intelligence and credible employer recognition through Top Workplaces. Built on 16 years of culture research and the results from 27 million employees surveyed across more than 70,000 organizations,  Energage delivers the most accurate competitive benchmark available. With access to a unique combination of patented analytic tools and expert guidance, Energage customers lead the competition with an engaged workforce and an opportunity to gain recognition for their people-first approach to culture. For more information or to nominate your organization, visit energage.com or topworkplaces.com.
Awards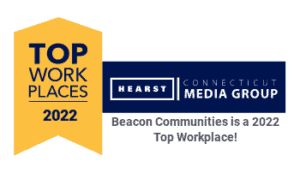 Back to All News